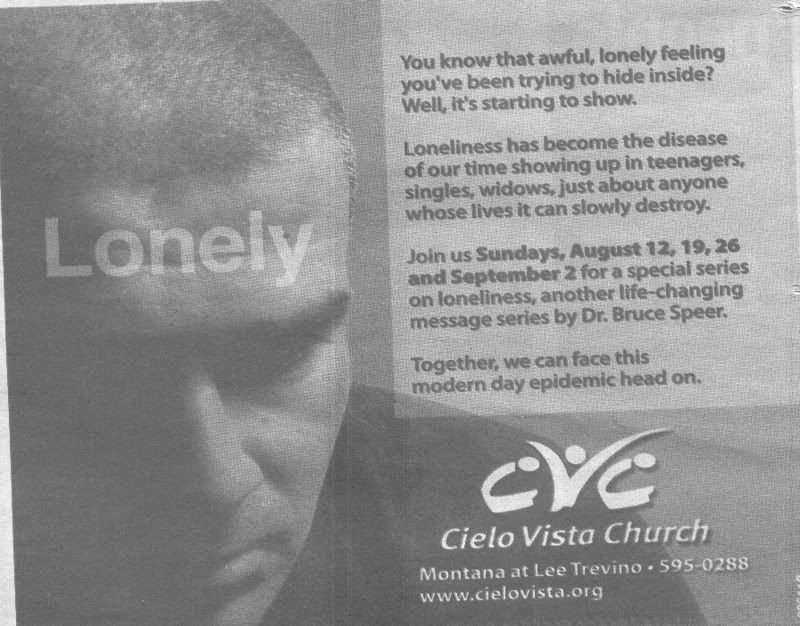 This is an advertisement in my local paper today.  I am tempted just to post this and nothing else, but I will comment.
I know it's just an ad, and six months ago I would never have even looked at it.  But I read it, and the first thing that popped into my mind was loneliness is not a disease.  After a little deeper thought, I started to wonder, who is this church's target and why?  This is one of the largest churches in town, yet they have to proscelytize this way? 
" …showing up in teenagers, singles, widows, just about anyone whose lives it can slowly destroy"
This just seems to target, for a lack of better words, the weak.  A person who may be more susceptable to believing in a mythical being.  If a person is indoctrinated early like my wife, it becomes very difficult for them not to believe, so the churches already have them.   Who else to target?  I know!  A widow or a single person feeling alone!  Yeah, write an ad, get on it! 
I guess I have just turned into a cynic.
And I know HeIsSailing posted another of this same churches ads on one of his articles on de-conversion that basically used an attractive woman to get new members but in my brief search over there I couldn't find it.  If anyone knows the post please link it back.